Running your own business is hard, no bones about it. It takes drive, dedication, and time. Of the three, time is the one thing we can't get back. We may lose drive and dedication from time to time, but something typically inspires us and we come back to them.
But time? Once it's lost, we can't get it back.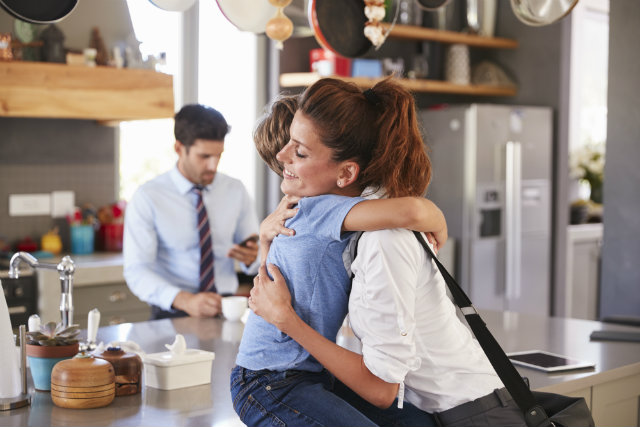 So, when we try to balance our work life with our family life and find we're struggling, it's important to take a hard look at how we're managing our time at work. Because it is possible for us to get ahead in business and still have our family love us.
Here's what the Whole Life Challenge suggests to keep you on time and in balance:
1. Use a Calendar
Whether it's electronic, paper, or human, find the best system for you to keep reminders in place. It has been proven that using a scheduling system can keep you on task.
Some of us struggle not just with keeping things on time, but prioritizing those things, too. By calendering meetings, phone calls, or lunch dates, you can keep things in order. The days will run more smoothly and you won't have to worry about missing important client meetings or losing time later by rescheduling.
Paper calendars are still popular, but there are also lots of software options that teams use to stay streamlined and organized. Even short to-do lists that cover your "Top 5 To-Do Items" can be helpful. Not only will you be able to prioritize what absolutely needs to be done for the day, but you can leave the day behind feeling confident that your most important deadlines were met. And this means you'll be more present when you return home to your family.

2. Create Boundaries
Depending on the kind of services you offer, you may have clients that need to communicate with you more. Coaches, for example, offer packages to clients that might include a weekly phone call and regular email correspondence. But if personal boundaries aren't set from the get-go, those clients may feel that reaching out in the evening and on weekends is okay. If you respond to them during those times, you reinforce that. And then when you don't respond the next time, you may irritate them because you've already set a precedence.
With every client, be clear on your work hours. Include the hours on your website and on automated email responses, too. Something as simple as:
"Our response and customer service hours are Monday through Friday between 9am and 5pm EST. If you reach out to us after hours, we will be back in touch the following business day."
Make it clear that if a client reaches out in the evenings or on the weekend, that you'll get respond on the next business day. While being readily available to your clients is noble, it can also blur the lines between your business life and your personal life. What's more, it cuts into important time with your family.
3. Learn to Say No
This goes hand-in-hand with creating boundaries, but it deserves its own section because it just might be the most important lesson for you to learn in business.
There will, undoubtedly, be clients who ask more and more from you. It's called scope creep, and it can send you down the rabbit hole of no return. Scope creep is when the boundaries of a determined project are pushed. It might look like the client saying, "Can you just add one more paragraph?" Or, "Is it possible to tack on another logo that's similar? It shouldn't take you that long." If you're a coach or a trainer it might be, "Can you go an extra hour this week? I'm having some issues that need addressing."
Just say no.
One yes will lead to one more request, which will lead to more unpaid time which will lead to clients taking advantage of you. By learning to say no, you're less likely to work longer hours or take extra work home with you just to please a client.

Your family doesn't want you sitting at the kitchen table drawing more graphs or adding more pages. They want to take a walk with you and have dinner with you. They want to laugh with you and tell you about their day. Say no, draw the line, and remember that life isn't just about making a client happy. It's about making you and your family happy, too.
4. Practice Being Present
When we are overwhelmed by projects and clients and meeting deadlines, we can become all-consumed. Our mind wanders. And while we may be physically present with the ones we love, we aren't mentally present — and that can cause a problem.
Social media, a thriving business, difficult clients — all these things can remove us from being present. That's why putting mindfulness into practice tend to bring on happiness, calm, and appreciation.
It is crucial that we choose to leave work behind and step into the present moment with our family. Whatever it is you have to finish or move forward with won't happen with you being consumed with it at home. Nothing will change except the distance you put between you and your family. The problem will still be a problem when you return to your desk. So, let it be until you can put your focused attention on it the next day.
5. Take Time Off
One of the primary reasons we choose to go into business for ourselves is so we can have the freedom of a flexible schedule. But some of us forget that's why we birthed a business and end up working endless hours anyway. The reason? We fear an even bigger workload when we return. Also, some of us fear that if we put another in charge, that other person may create new issues or increase the workload.

Yet, if we don't decide to take time for ourselves or splurge on a much-needed vacation with our family, physical and mental symptoms can creep in, wreaking havoc on our lives. Rejuvenation is crucial. Without it, burnout, fatigue, and illness set in. And if we're tired, the last thing we want to do is spend time doing anything or going anywhere.
At the beginning of each quarter determine the days you can take off to spend time with the ones you love. Make memories. Embrace the present moment. And leave your work at work where it belongs.
You Can Find That Place of Work-Family Balance
The Whole Life Challenge was created to help individuals and communities incorporate the 7 Daily Habits into our lives so we all can live a meaningful and balanced existence. Well-being is one of those habits. Working on balance helps us improve our well-being.  And while it isn't always easy to find and maintain it, there is no question that work-life balance is attainable.
Remember that your family is a big part of who you are now. Learning to manage your time between work and family is the key to total well-being and happiness. Be present, be well, and be loved. It takes time to strike the ideal balance, but time is all it takes.